Wintertide
Saturday, December 4, 2021
Description
Thank you to everyone who made 2021 a success!

Join Highland County during the holiday season each year on the first Saturday in December. Slow your pace, and enjoy the sights, sounds, and tastes of this special time!
The 2022 Wintertide will be held Saturday, December 3rd!
*** 2021 information is listed below. ***
*** Please check back closer to 2022 for the updated schedule ***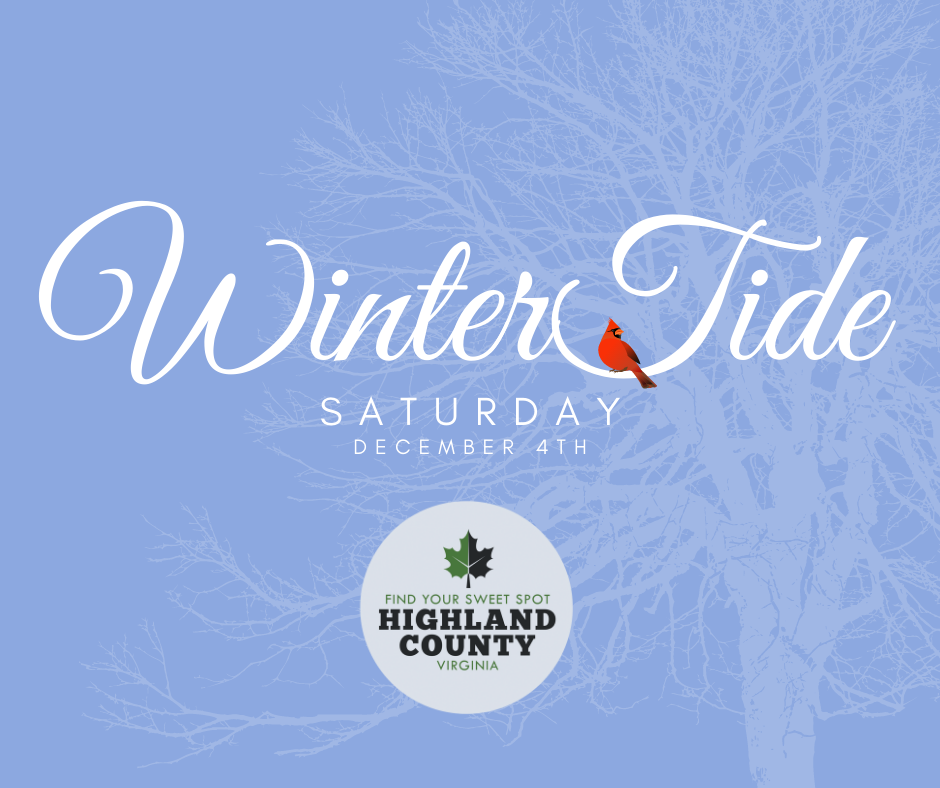 The Highland Center
61 Highland Center Drive, Monterey
10 am - 5 pm • Kids' crafts, Wintertide Market with local vendors. Interested in being a vendor? Click here!
10 am - 3 pm • Cookie decorating with Claire Sax of Claire's Cake Co. (drop in any time for a $10 fee)
11 am - 1 pm • Lunch available
1:30 - 2 pm • "Cocoa and Claus" - Families - join us for story time and tree lighting before Santa arrives! Special thanks to Blue Grass Valley Bank for sponsoring The Highland Center's beautiful Christmas Tree display. Special thanks to Highland Children's House for decorations and The Curly Maple for hot cocoa.
2 - 4 pm • Visit with Santa
4 and 4:30 pm • "A Nutcracker Christmas Mini-Performance" at 4 and 4:30 pm by Sundance Studios & Productions *** The Nutcracker Christmas Mini-Performances have been CANCELLED - We apologize for the inconvenience ***
Big Fish Cider Co.
59 Spruce Street, Monterey
2 - 5 pm
Swing by the Big Fish tasting room and try one of their award winning ciders, made with locally grown and harvested apples. Enjoy free mulled (nonalcoholic) cider and cidery tours with the cider maker between 2 and 5 pm.
Claire's Cake Company
125 W. Mill Alley, Monterey
Friday, December 3rd: 3 - 7 pm; Saturday, December 4th: 9 am - Noon
Enjoy delicious baked goods, treats, and fresh coffee!
The Curly Maple
174 West Main Street, Monterey
10 am - 4 pm
Check out a one stop shop! A historic general storefront revamped to sell groceries, locally made goods, and serve up some delicious lunch specials.
4:30 - 7:30 pm
Small Town Saturday's • Join us for a select dinner menu. Open for dine in or carry out.
Duff's Sugar House at Fair Lawn Farm
3118 Mill Gap Road, Monterey (south of Monterey)
10 am - 2 pm
Enjoy sugarhouse tours, log cabin tours, hot apple cider and the process of smoking cheese!
Get your passport stamped here after a tour as part of the Virginia Maple Syrup Trail.
The Farm House at Lucky Loop Hollow Farm
6467 Mill Gap Road, Monterey
Wanting to stay for the weekend? Receive 10% off your stay if you book directly through thefarmhouseva@gmail.com or Marty Leech 540-414-2873.
The Gallery of Highland at The Highland Center
61 Highland Center Drive, Monterey
11 am - 4 pm every day
Need Christmas gifts? Shop at the Gallery of Highland for creative, unique art and gifts for adults and children! Open daily from 11 am - 4 pm inside the auditorium on the left. Credit cards and checks only - no cash.
High's Restaurant
73 West Main Street, Monterey
11 am - 8 pm
Enjoy delicious food, including a 1 inch hand-cut 16 oz ribeye steak with two sides for just $23.95!
Highland County Public Library
31 North Water Street, Monterey
1 - 4 pm
Coat and Book Giveaway! Thanks to the generosity of the McDowell Presbyterian Church, we have 45 brand new coats for children to give away, ranging in sizes from 18 months to kids 18-20. First come, first served. We are also giving away free books to all children who stop by. Door prize! The Library is sponsoring a drawing for a new Fire HD 8 Kids Pro Tablet. Stop by to enter. Drawing at 4 pm.
Laurel Fork Sapsuckers
10677 Mountain Turnpike, Hightown
11 am - 4 pm • Holiday Market
Swing by and pick up a fresh cut pine wreath from the farm to begin your Holiday decorating. While you're here grab a few tasty gifts for friends and family that they are sure to enjoy. Handmade scarves and warm hats for all ages as well as wood turned items will be available for your gifting needs! Are you or someone you know a fan of Laurel Fork Sapsuckers maple syrup? Don't forget to check our our new line of merch, warm, cozy sweatshirts and hats!
Get your passport stamped here after a tour as part of the Virginia Maple Syrup Trail.
Southernmost Maple
7738 Big Valley Road, Bolar
9 am - 3 pm
Enjoy arts & crafts vendors, hot food and cider (carryout options available), baked goods, cheeses, bbq, pimento cheese spread, and Christmas gifts like maple gift boxes, Amish-made furniture, cast iron products, Grandma's Super Nutty Fruitcakes, and more. Let Southernmost Maple do the cooking and preparation for your gathering - they will be taking orders for platters, meals, and holiday baking.
Sugar Tree Country Store
185 Mansion House Road, McDowell
10 am - 5 pm
Check out this unique country store with great selection of gift baskets from our creations, or create your own. There are lots other unique gift options for all ages! The store will be open Monday - Saturday in December from 10 am - 5 pm. Closed on Christmas Day.
Get your passport stamped here after a tour as part of the Virginia Maple Syrup Trail.

We thank Highland County's staff and Erica Stephenson of Meadowdale Blooms for setting up and decorating the Christmas Tree display on the Highland County Courthouse porch in Monterey! Swing by and see it lit up through the season!


If you're in Highland County, don't forget to check out our Barn Quilt Trail and the Virginia Maple Syrup Trail. Check out all our Chamber members and discover other things to do no matter the season!

Learn more about Virginia events at www.virginia.org.


Images
Highland County



Monterey

,

VA

24465

United States



Various locations in Highland County
Saturday, December 4, 2021