Wintertide
Saturday, December 5, 2020
Description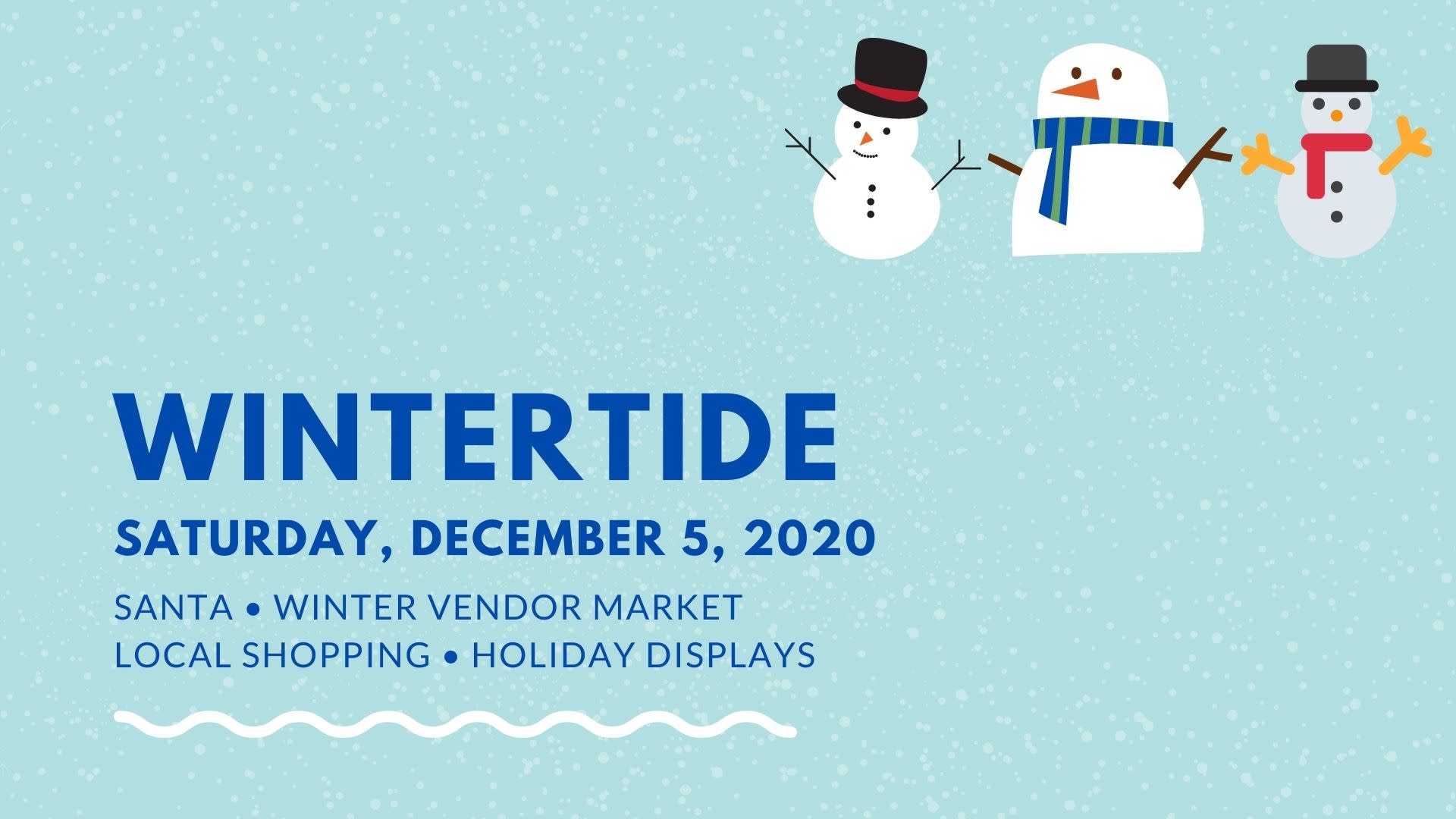 Join Highland County during the holiday season each year on the first Saturday in December. Slow your pace and enjoy the sights, sounds and tastes of this special time!

It's been a tough year, so let's spread some cheer! The 2020 Wintertide will take place on Saturday, December 5th and will consist of a drive-through visit with Santa and Winter Vendor Market at The Highland Center, opportunities for you to support our community businesses by shopping local, and holiday lights and displays! Full details are listed below - please check back often as we add new updates to this page frequently.

Santa Claus
The Highland Center at 61 Highland Center Drive
10 am - 1 pm
Visit with Santa as he takes time out of his busy schedule to swing by Highland County! Due to COVID-19, we want to keep Santa and the children safe this holiday season. You may visit Santa outdoors at the pavilion at The Highland Center safely from your car or at a safe distance - the choice is yours! If you do not wish to get out of the car, you may slowly drive by and wave at Santa. If you would like to get out of your car to visit Santa, one of Santa's helpers will instruct you with what to do at a safe distance. Only one family will be allowed out of their car at a time, and we ask that participants follow directions and designated area spaces and adhere to COVID-19 precautions for everyone's safety. There will also be a mailbox set up from December 5th to 23rd for anyone who would like to mail a letter to Santa.

Winter Vendor Market at The Highland Center
61 Highland Center Drive, Monterey
Friday, December 4, 2020 from 12 - 6 pm
Saturday, December 5, 2020 from 9 am - 5 pm
Vendors:
Back Creek Farms: maple syrup
Blackthorn Estates Lavender Nursery: lotions, creams, soaps, candles, essential oils, decorative linens, lip therapy, and gourmet
Stitch Witch with Debbi Stephenson: handmade sewn items
Mary Stephenson: baked goods, breads and scones, reading pillows and knitted items
Donna Gardner: jewelry and crafts
Vendors are welcome but will be on first come on a first serve basis. If you would like to participate as a vendor or have questions, please call The Highland Center at 540-468-1922.
According to The Governor's Order that went into effect on November 16, 2020, The Highland Center is allowed to continue forth with Wintertide. COVID guidelines and requirements will be followed. The Highland Center will be cleaning the facility frequently throughout the day and the high traffic areas more often. A facemask will be required and 6-foot social distancing will be in effect.

Courthouse Tree Lighting
There will be no formal tree lighting ceremony this year, but we'll be turning on the lights of our Christmas trees on the Monterey Courthouse lawn at 6 pm (165 West Main Street). Special thanks to Erica Stephenson of Meadowdale Blooms for her time in beautifully decorating the trees and to the Blue Grass Valley Bank for their generous donation of the trees

Decorate your holiday display with a snowman theme this year! We invite the community to place a snowman, snowwoman or entire snowfamily in decorating plans to give residents and visitors some additional fun to look at all around the county. We look forward to seeing what you come up with!

Check out these local businesses that will be open on Saturday, December 5th, some with specials and discounts!
Blue Grass Mercantile
2558 Blue Grass Valley Road, Blue Grass
8 am - 8 pm
Grab a warm cup of slow-cooked, delicious Brunswick Stew (we've heard a secret ingredient is maple syrup...), cider, beer, flavored ice coffee mixers, Country Cannery products, gifts and more

Fair Lawn Farm
3118 Mill Gap Road (south of Monterey)
9 am - 5 pm
Apple butter and hand-carved walking sticks for sale. Take a tour of their sugarhouse and restored log cabin woodworkers' shop. Fair Lawn Farm is part of the Virginia Maple Syrup Trail.

Fast Break
16 West Main Street, Monterey
6 am - midnight
Chicken, pizza, sandwiches and other quick eats, fuel and more

Ginseng Mountain Store
6359 Potomac River Road (north of Monterey)
Unique country store with plenty of gifts!
12 - 5 pm

High's Restaurant
73 West Main Street, Monterey
11 am - 8 pm
Special - choice of hand-cut ribeye steak or full rack of bbq ribs, pick any two sides and any dessert (think pumpkin pie, caramel-apple-nut pie, pecan pie, blueberry pie, and strawberry-rhubarb pie) for only $19.95. For 1 day only - take 20% off High's shirts, caps and masks! Enjoy all this in addition to their regular menu

Highland County Public Library
31 North Water Street, Monterey
9 - 12 pm
Book sale in the library!

Highland County Recreation Commission
The Highland County Recreation Commission will be offering online gift cards sales! Gift cards can be used for any HCRC purchase, including at the pool, pool cafe, sporting event registration, weightroom membership and gun raffle tickets. Learn more about ordering online at their website HERE or Facebook page HERE

Hiner Town Trout Fishing
833 Potomac River Road (just north of Monterey)
Call to schedule your fishing trip on Saturday, December 5th for some lasting memories!

Twice is Nice
168 West Main Street, Monterey
10 am - 4 pm
The Twice is Nice thrift and consignment store will be serving hot cider and cookies and raffling a basket of Highland Treats!

Laurel Fork Sapsuckers
10677 Mountain Turnpike, Hightown (west of Monterey)
Let Laurel Fork Sapsuckers help you make the gift giving a little easier this year! All of their wonderful maple syrups, vinegars, ramp salts and apple butter will be available, as well as unique hand made crocheted and wooden bowls and tap hole maple furniture. You will find something for everyone, including yourself! Laurel Fork Sapsuckers is part of the Virginia Maple Syrup Trail.
11 am – 5 pm
(Get a jumpstart on your holiday shopping even earlier on Saturday, November 28th from 10 am - 4 pm for shopping and tours!)

Puffenbarger's Sugar Orchard
17 Maple Syrup Lane, Blue Grass
10 am - 3 pm
They will have maple syrup on sale through December 31st. Swing by for a tour as well! Puffenbarger's Sugar Orchard is part of the Virginia Maple Syrup Trail.

Rexrode Country Store
6492 Potomac River Road (north of Monterey)
7 am - 6:30 pm
Pizza and other quick bites, gifts, maple syrup, honey, apple butter, fuel, and more

Sugar Tree Country Store
185 Mansion House Road, McDowell
10 am - 5 pm
Check out this unique country store full of gifts and goodies, including maple syrup! Special - buy a case of 12, you only pay for 11! Sugar Tree Country Store is part of the Virginia Maple Syrup Trail.


If you're in Highland County, don't forget to check out our Barn Quilt Trail and the Virginia Maple Syrup Trail. Check out all our Chamber members and discover other things to do no matter the season!


For both your safety and for the safety of others when traveling, please adhere to current CDC and Virginia Department of Health guidelines regarding the coronavirus. To help prevent the spread of COVID-19, please observe social distancing of at least six feet from other visitors, wear a face covering when indoors or when you are in close proximity to others outdoors, and wash your hands frequently with soap and water for at least 20 seconds or apply hand sanitizer with at least 60% alcohol. Please stay home if you are sick, if you have signs or symptoms of COVID-19, or if you have been in close contact with someone who has had COVID-19. Prevention tips can be found at https://www.vdh.virginia.gov/coronavirus/prevention-tips/.

Learn more about Virginia events at www.virginia.org.


Images
Highland County



Monterey

,

VA

24465

United States



Various locations in Highland County